According to an estimate, more than 50% of companies do not answer customer complaints, which is where the snowball starts to grow.
When complaints are not handled well and in a timely manner, customers become dissatisfied.
Even if you are providing the best services, there is still a chance that you will face some kind of criticism or customer complaint. This means that every company should understand that although they can address most client's needs, they will not be able to keep everyone happy.
Sometimes a customer makes a complaint regarding the quality of products or services. This situation can also occur when there is an issue with the product manufacturing and packaging.
These are some minor mistakes and human errors that may cause long-term reputation issues for a company, as customers are free to leave negative reviews on company websites.
Mistakes can happen, but it is very important for a company to take care of customer complaints and resolve them as soon as possible.
A. What is customer complaint management?
The term "customer complaint management" explains how a company can solve particular problems that are affecting customers and how soon a solution can be provided.
B. Why is customer complaint management important?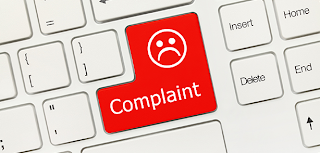 On average, a dissatisfied customer will tell 10 to 20 persons about their subpar customer experience, while a satisfied customer tells 8 persons on average about their stellar customer experience.
Every business makes efforts to maintain positive online reputations by respectfully presenting themselves to shoppers and potential buyers. Reputation management is all about caring what other people think about your brand, which makes a big difference.
Let's talk more about why it is absolutely essential to maintain your online reputation.
How people perceive your brand determines a company's success and the kind of public perception you will have in front of the world. If yoir visitors find something negative on your site or they have bad in-person experiences regarding your brand, they will never make the mistake of searching for you again.
The situation is made worse when during searching for your site the first thing people see is a bunch of negative reviews. Thus, your site becomes progressively worse when the complaints of customers are not handled properly.
50-70% of customers who register a complaint agree to do business again with the organization if the complaint is resolved. From this, handling complaints in a quick manner definitely pays off in terms of loyalty.
C. Customer management complaint process: what are the procedures
There are two main goals for succsseful customer complaint management:
Quality assurance: If most of your customers are happy, it simply means that you are providing quality products or services. However, when you learn from negative feedback and manage complaints in a timely manner, you enjoy better chances of standing out from your competitors. This means that customer complaints can be beneficial for companies, in the sense that they give the companies a chance to improve by reviewing the most honest feedback.
Customer satisfaction: If you respond to customer complaints quickly, you can reduce the level of dissatisfaction in your customers significantly. When you  ensure that any issues that occur will always be resolved as soon as possible, you can establish long-term customer relationships and enjoy their loyalty.
D. What are some tips for successful complaint management that stop the snowball from growing?
To ensure that you have a solid system in place, you should follow the given procedures for successful complaint management:
1. Ask your customers to share their honest opinion
Getting feedback from customers is the surest way to understand how your business is performing. You should consider it a golden opportunity and ask your loyal customers to inform you about the company's flaws and negative points so you can improve your services in the future.
Remember that a complaining customer is not a nuisance, but a blessing.
It is a fact that everyone loves positive feedback and appreciation, but you are there to achieve excellence and you will have to focus on your goal of establishing a successful business, rather than merely desiring encouragement.
2. Listen to your customers and ask relevant questions
If a lot of customers are filing complaints and showing their dissatisfaction, then you must examine what they are saying carefully and ask relevant questions to understand the situation in the best way possible.
Let them clearly explain what is actually disturbing them and keep adding follow-up questions for further understanding of the issue. Following this practice will show your customers your commitment to solving their problems and appreciation of their time and effort.
3. Respond as soon as possible
Not only is the customer already dissatisfied and annoyed about your services, but they are also facing a responsiveness issue that could definitely add to the confusion and anger.
The first and most important thing your company needs to do is to immediately respond to what the customer is asking and proceed with a practical solution as soon as possible. To ensure timely responses, the best customer support software provides AI chatbot and live chat options as well as offers customer profile access to representatives at any time.
One example of this type of software is Helpy, which provides with instant and secure customer support solutions.
4. Take responsibility for anything that is or may be wrong
Sometimes, it may seem that a customer is complaining about an issue that is nonexistent. But if you focus a bit, you will come to know that most customer complaints are often valid and require comprehensive solutions.
Even if there is a problem with the customer, you should avoid becoming frustrated and try your best to satisfy them.
When you take responsibility, it can definitely contribute to the growth of your business. Moreover, it is not a good idea to blame your customers. It is your responsibility to act as if every customer is always right. Customers will be more willing to conduct business with a company that offers flexibility rather than anger. Business success boils down to having constant customer payments, right?
5. Think about solutions
A dissatisfied customer may become a great cause of frustration, especially if that customer continuously mentions the same problem. The best thing to do in this situation is not to waste your or your customer's time by offering poor excuses. Instead, companies should identify a problem accurately as soon as possible and focus on the solution.
Express your complete dedication to their happiness by offering sensible solutions. This way your company will maintain control and can also better determine the exact costs of compensation.
E. What are the tasks that contribute to establishing an efficient customer complaint management?
Various tasks contribute to complaint management procedures and help in receiving positive outcomes.
Let's have a look at them!
1. Analyze the feedback carefully
Before you set priorities and implement strategies, it is very important to carefully go through your feedback section and see what the customers actually want. In most cases, the feedback that you receive is often random and not formatted well. Luckily, you can ask your customer to provide feedback in a standardized way too!
To reach th desired business prosperity, it is very important to carefully evaluate every feedback and understand what issues customers want resolved.
2. Use collected information
After analyzing the feedback, you should mark relevant information to decide how to proceed with a solution. Data collection done as a part of the complaint management process is often helpful in drawing useful conclusions. It definitely leads to improvement in production and service performance because you will know which weak links should be fixed or removed from the support proccesses.
3. Value the initial contact with a customer
Never underestimate the power of polite behavior. It is critical to treat your customers in a very respectful manner so that they believe they are in good hands. For this purpose, you should consider hiring  trained customer support representatives that value the initial contact with a customer and help a company in achieving customer loyalty.
Customer support software is extremly benefitial when your aim is to improve your overall support performance as well as to deal with customers in a professional way and provide them with a flawless experiences.
Besides the above mentioned, Helpy gives customers the ability to solve their problems on their own by using a fantastic helpcenter. In this way, they can learn to manage their issues while finding answers in the company's knowledge base. Additionally, with built-in feedback tools and reporting systems, customers can enjoy extended availability of information.
The best part about Helpy is that besides focusing on support efficiency, it is also packed with security and data compliance features, such as GDPR compliance, SSO technology and data masking.
4. Clearly design a feedback process
You should immediately forward feedback to the relevant departments. Departments should review the feedback quickly to understand which areas require improvement. A remarkable customer complaint management is about making customers feel that their opinion is important and is valued by a company.