How to Provide More Empathic Customer Support in the COVID-19 Era
During the past few months, you might have felt like someone "pulled the rug out from under you". The shift to the new normal in both the humanitarian and economic areas has been widely visible. These days, many CEOsand department managers are in a hurry to adapt to new measures while making their businesses sustainable.
The key business success factor that speaks louder than others lately is connecting with customers. It is crucial to ensure that empathizing and bonding with your customers is still of the utmost importance to your company and its employees, as no other disruptor has changed the world in the way COVID-19 has.
Thus, you need to rethink your customer service best practices, as some of them may not work now. You can sit and observe the collapse of your business, or you can be proactive and come out of this situation a winner. And the best way to start is by improving your customer service, since that is the foundation of a loyal customer base.

Let's take a look at the customer support survivor formula now!

A. What Do Your Customers Want Now?
While being overwhelmed with media panic and extremely vulnerable due to the uncertainty of the situation, customers don't want to hear  sales pitches right now. During these trying times,  customers seek safety and a company that can best meet their needs. Focus on providing empathetic support before they even ask for it.
Empathy will drastically facilitate connecting with your customers as it will help you establish a relationship with them on a more personal level. It will enable you to better understand their unique issues and needs, paving the way to providing excellent customer service in this period of crisis.
Empathetic communication was relevant before, but now your business needs it more than ever! The main reason for its implementation is that customers now look for support more than simple service. Therefore, make sure that you are there for them. But again, do it in the right way!

B. How Do You Define Empathy?
We all know the basic meaning of empathy. However, when you apply this concept to business it may get a bit confusing. Empathy is a way of utilizing emotional intelligence, a.k.a EQ, when planning an action. Simply said, EQ represents the ability to use emotional information as a guide for thinking and behavior.
Furthermore, this process enables you to step into your customers' shoes to better understand the nature of their problems and perfect your approach to solution delivery. When you talk to your customers on their level, you can build friendlier relationships that last longer. Connecting with your customers from the position of a friend may be the most efficient way ever to provide  excellent customer service.

C. Empathy Techniques For Top-Notch Customer Support in the COVID-19 Era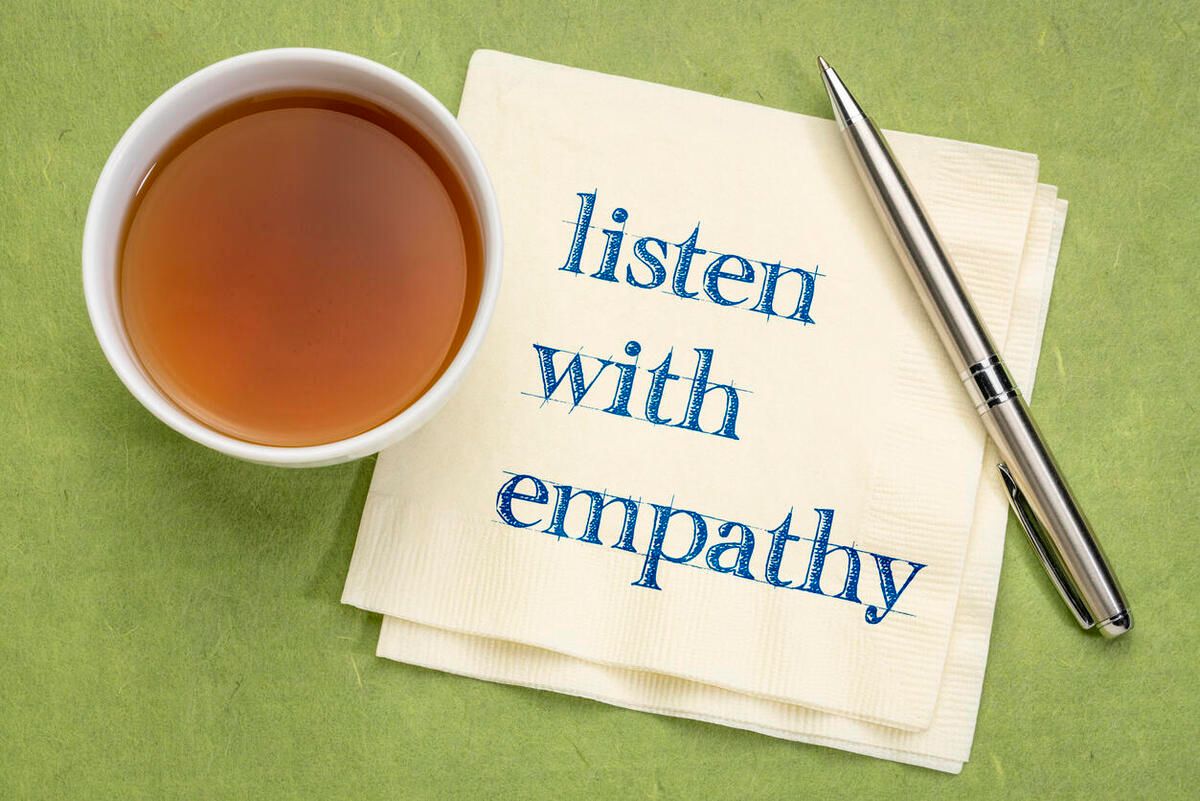 1. Build up your brand identity as a social leader
Your main goal is to become an economic leader. However, you can't realize that aspiration if you haven't earned respect from your customers. To make your customer support team more empathetic you need to first make your brand more empathetic.
During times of crisis, you should present your company as an example of good behavior but also a shoulder that your customers can lean on. The latest McKinsey research has found that 64% of customers prefer purchasing from socially responsible brands. The most effective way to do that in the COVID-19 age is to limit physical interaction and update your portfolio.

a) Reducing physical interaction

At the moment, people are extremely afraid of the potentially fatal negative consequences of physical interaction. If you are an online business, well great job, you can skip this part. However, if  you own a physical store, this part  is of the greatest importance for you. Thus, to address your customers' fear of having health difficulties apply social distancing measures in your company.
A significant number of companies have gone one step further and started expressing their empathy by providing special treatment to the most vulnerable groups. Grocery retailers started offering free shipment for older generations who can't easily come to the store. Similarly, online retailers are now offering a contactless delivery that completely minimizes the risk of coronavirus. Is there something you can do to follow these examples?
b) Product offering updates

We are witnessing many shifts at the moment, but a major one is toward market adaptation. A certain level of market volatility is always expected, but now those levels are more extreme. Thus, you need to prepare your company by updating your product portfolio and making it more essential-needs oriented.
For instance, General Motors is partnering with a medical device company to produce more respirators. And they are not the only one. Many automotive companies are also pivoting their production toward producing ventilators and respirators. Other industries are recognizing the importance of switching their production to essential products, too. The most active one is the apparel industry that started producing face masks at a mass scale.
Ask yourself if you have the ability to add new essential products to your portfolio to make up for dropping sales numbers. Even though they weren't in your plan at all, now is the time to reconsider. This is also  a proven way to show your customers that you understand their needs in these turbulent times. In the end, demand is the key market driver.

2. Establish high levels of security and stability
Customers are stuck in grief and anger and they don't want to hear about more problems or sales commercials that are insensitive regarding their current situation, especially their financial situation. Thus, this might not be  the time to earn extra money. Now you need to focus on preserving your customer base. And the best way for that is through reliable and kind customer support.
Your customer agents should reach out with a supportive message before the customers even realize there is a problem. You need to let them know that your company is still stable and there for them. That stability will be highly appreciated as this unfortunate uncertainty pushes people toward finding other anchor solutions that they can rely on. Therefore, make them feel secure and heard.
Support agents now more than ever should aim at bringing positive news and joy to their customers. Any kind of positivity will be more than welcomed as people are tired of hearing about the world's numerous troubles. Additionally, if you are in the position to give them any kind of financial relief don't hesitate to do it. They will remember that for a long time, ensuring you a long-term client!
3. Create convenient interactions
There is no doubt that our present situation is part of a digital evolution phase. Social life is already on our screens most of the time, now it's time for the business world to do the same. There are companies that started benefiting from digital customer support channels five years ago or even earlier. These trendsetters utilize the latest achievements in the social media industry or the messenger industry.
However, the industry leaders put their customer support on a higher level by employing their own customer support platforms and private clouds to protect their data. They were already well-prepared for this crisis. For instance Helpy helpdesk software keeps all your customer interactions in one place while keeping your response rate high.
With its AI chatbot feature, ticketing system, and overall transparent CRM, it guarantees that all your customer requests are answered in a timely manner while following the relevant data policy rules. And not just your company's rules.
Helpy helpdesk software also follows the data privacy and protection regulations imposed by the jurisdiction relevant for your business. As you can see, one customer service helpdesk software can rid you of many work tasks, yet still provide an advanced customer experience.
In other words, now there are so many easy digital ways for your customers to reach you. Thus, it would be a shame not to benefit from these competitive customer service tools. This crisis doesn't sound that bad for the customer service industry, right?


4. Present your brand as a trustworthy support
It's now more important than ever to nurture your company's values and brand image by sticking to your promises. Make  sure that you respect the effort a customer put in addressing an issue with your product. Next, make all communication transparent to make it easier for customers to trust you.
Consider sharing any troubles your company is currently experiencing. This will open a window into your company, allowing your customers to understand you better and be even more loyal.
The only positive thing about all this socio-economic turmoil is that people are helping each other more, because we're all in the same boat.  Don't hesitate to surprise them with an earlier launch of your product or serviceor something similar that will put a smile on their face. For instance, Disney  decided to release its blockbuster Frozen 2 on its new streaming service, Disney+, earlier than expected during lockdown to entertain people while cooped up inside. It's no surprise that their popularity, especially the popularity of their streaming service, exploded after that!
The point here is that if you are open and empathetic, you can expect the same reaction from your customers!

Be a survivor, not a complainer!