The most crucial component of the formula for customer service efficiency is a fast response. You need to understand that customers are always in a hurry. They want to get a solution quickly to feel appreciated.
Moreover, a Foster's study has shown that 66% of customers claim that valuing their time during a support interaction is the most important thing a company can do. Thus, if you are not known for quick service, they may switch to a company that is.
However, if your customer base has outgrown your customer support capacity, responding in a timely manner can become quite the task. But you knew that you can cut your massive customer support expenses by employing one AI helper to handle numerous repetitive and simple requests, why wouldn't you?

Artificial Intelligence enables you to automate responses for common actions such as a "thank you message" or simple questions like,  "Where is the login button?", letting you reply to customer queries within seconds. Can you imagine how many 5 stars reviews you will get if you implement this practice? A lot!

Wondering how to automate customer service? Well, wonder no more. Here, you will find the top 10 ways to automate customer service and start delivering a remarkable customer experience. However, let's first find out what automated customer service actually is. Scroll down!

What is automated customer service?
Simply said, automated customer service implies automating customer service processes using Artificial Intelligence. With AI, you can halve your customer service department by hiring one customer service helpdesk software to do easy and repetitive request tasks. This frees up your agents' time  so that they can resolve more complex demands.

You can also minimize human error as tech assistants are far more reliable. You can forget about massive backlogs and wait time that only makes customers regret buying something from you. However, not every customer service can be automated. Thus, let's see those fabulous ways to automate customer service!

10 Ways To Automate Customer Service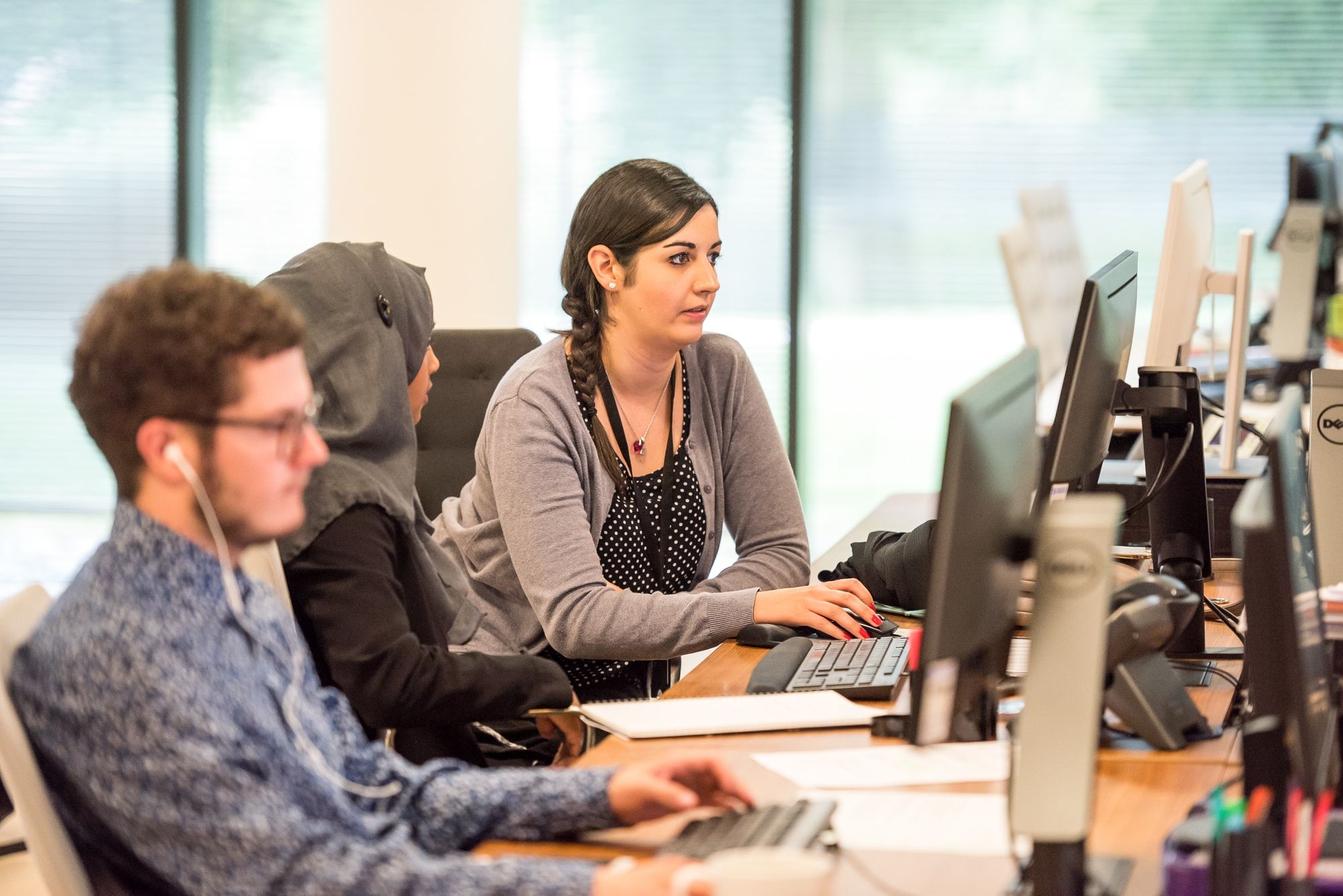 1. Assign Tasks Only Once
When trying to deliver exceptional customer service, you need to make sure that every request gets delivered to the right department. Do you like it when an agent puts you on hold or transfers your call to an endless line of people who can't solve your issue? No one does, right? Thus, imagine how much your company would irritate your customers if you deliver an experience like that.
You can avoid these kinds of troubles if you automate ticket routing, sending specific requests to the right agent, usually depending on their role. This way to automate customer service will save you and your customers an incredible amount of time. You assign a certain task only once and your customers don't need to wait in line just to get the right person to talk to!
Think about the opposite scenario where you need to sort and assign a huge pile of requests manually every single day! Doesn't sound that appealing? Instead, you can set up ticket routing rules based on language, topics, or time zone to ensure everyone is on the same page!
2. Automate Group Routing
Similar to the procedure where you assign tickets to individuals, you can mark a whole department or group specialized for a certain issue. The beautiful thing here is that everyone gets notified at the same time to know the availability of the work tasks. From there, it is important only that someone completes the request.
3. Set up automated responses
Probably the best of the ways to automate customer service is to automate the most frequent responses. Yes, every client is unique, but not every problem is. There will be days when you will deal with a stampede of the same complaints due to a product failure, data breach, or similar issues that affect all your customers. Thus having the same response to send to all of them would be a miracle.  
As another example, you can send onboarding emails such as "welcome" or "thank you for becoming a member" to your subscribers to acknowledge their contribution. Not to mention how beneficial this tool is for e-commerce brands that sell about 1,000 items per day. Simply send one thank you to all of them. You can trigger any kind of action, from making a purchase to closing their account on your website, and they will receive a kind response in a timely manner.
With this fast responding system, you will for sure satisfy that 66% of customers that demand quick responses! Additionally, don't hesitate to set up automated linking to your website by adding your website pages in the messages. Your SEO effort score will soar!
4. Build automated notes
Another handy way to automate your teamwork is to enable automated notes that pop up anytime someone starts working on a task you have assigned. You don't need to worry that  you are going to forget someone anymore due to how many repetitive tasks arrive in your queue. Now you include the names on your easy-to-use helpdesk interface and press a send button to notify everyone on the distribution list. Provide clear instructions for your team or a specific employee to ensure that you are delivering the service you want.
5. Trigger bad behavior
Truly excellent  customer service is an ideal that is quite hard to reach. It is impossible to oversee the work of all your employees simultaneously to  determine if someone is doing something wrong. You would need a hundred heads to oversee everything, right? But what if there were a system that could inform you when there was a troublemaker who didn't respond to a customer's request according to an established standard?
You can trigger bad behavior and track results all the time with a modern helpdesk software that notifies you about critical actions. In this way you can immediately know which actions are urgent and have enough time to fix the problems quickly. It will become clear to you who is doing a good job, as well as who could use a little more work. You will also gain insight into the overall quality of your customer experience.  And all of that without the need for constant employee surveillance!
6. Develop a robust knowledge base
Customers want a rapid solution, and the quickest way to get it is to find it by themselves. Self-service is a growing trend that can be extremely beneficial to your business. Now you don't need your agents at all to solve every little issue. Instead, you can develop a thorough solution center on your website that increases traffic as well. Select a number of the most popular topics or questions regarding your product or service and try to create an exhaustive explanation of each of them.
You can use these topics and questions to create your online guide that will be easily accessible to your customers at any time. Ecoconsultancy research has shown that today consumers want instant help. Moreover, 51% prefer using a knowledge base as their first source of solution. And as companies are working on making these resources more interactive, this number is projected to increase every year. Add to that that you don't pay a monthly salary to your knowledge base, this sounds like the one of the best profit boosters ever.
7. Install an AI Chatbot
There is a certain type of customer  that still expects some kind of communication, i.e. messaging back. And again, they want a fast response. To meet their expectations you can install an AI assistant that is available all the time! And not just available, but also providing quality customer support. For instance, the AI chatbot Carin can answer all level one tier questions with no trouble.
Those questions can be anything from, "How much is your product?", to "Where is the exit button?" Carin stands out with its ability to answer from 50%-90% of customer questions. She can handle even the more complex questions such as, "Where is my order?" To get the full benefit of her support you just need to set up the basics.
By utilizing machine learning, she will develop the ability to create responses tailored to your business and industry! Having one 24/7 assistant that is cheaper and more efficient sounds hard to believe, yet it is possible to save loads of money with this way to automate customer service.
Aside from helping you increase customer engagement, it also enables you to build a brand image of a company that keeps up with the latest trends. Today customers expect a chatbot to pop-on on a website even though they may not ask you anything. They simply like knowing that you are there for them.
To make your automated customer service even more efficient, integrate your knowledge base with your AI chatbot. You can use your chatbot as a search tool, allowing your customers to type a question for which you offer an article on the solution instantly. Send your customers directly to your knowledge base to ensure they know you have a library of answers and solutions for all of their needs. You never know, maybe that will be the way they find their next answer, too!
8. Automate live chat answers
This is one of the ways to automate customer service that you didn't expect, but it is a game changer. We know now that there  is an AI chatbot and live chat that includes the human touch. Is it really possible to automate answers and still have a completely human-like conversation? The answer is yes! With canned answers you can make your live chat faster and still preserve the quality of support.
The canned responses include the most common answers or combination of words that you or your agents use when talking to customers.  All the agent has to do is click on one of the responses and it will appear as their  current answer. This wouldn't be their complete response, but just a suggestion that they can use to respond quicker. The agent can then  tweak them in any way they want to make the whole interaction more personal and polite!
Some examples of canned answers are:
Greetings
Polite asking for further details
Chat ending
Clarifying your understanding of their request
Admitting and apologizing for a mistake
Transferring to another agent
Discussing the product features
As you can see, automation is pushing the limits of customer service efficiency!

9. Add the follow-up system
In case a customer didn't read a message in your chatbot, you can send a reminder as a follow-up email by using the "resend if not seen" option. This fantastic feature helps you boost your customer engagement significantly, while showing an immense appreciation of their time and effort. When you set up the timing, you automate the overall sending process by teaching the system to send every next follow-up automatically.
You shouldn't overlook the potential of follow-ups as they can greatly help you  in improving your overall customer service. They can give you data directly related to customer satisfaction.
Some ways to use customer follow-ups are:
Rating surveys: You could consider using conventional customer surveys. However, they take more time and your clients may not have enough time to answer all the questions. Therefore, short slider polls that pop up on your website may be a better solution to determine if your clients are pleased with a talk.
Contact forms and emails: You need a support email or designated form on your website to gather candid customer feedback. As these two tools take communication to a more personal level, it is advisable to use them for all other marketing purposes. Make sure that you set clear expirations and call your customers by their names to get the maximum benefit of this effort.
Social media: Social media is quite popular among consumers of all ages. They are extremely handy for surveys since you can create a Facebook or Instagram poll and just wait for the results. However, using your company's own tools and not being a guest researcher on these platforms looks better in the eyes of your audience.
Don't miss this terrific opportunity to get to know your customers better with minimum effort!
10. Enable personalization
Personalization is the key to top-notch customer service! Today consumers love to be heard and not treated like just one more fish in the sea. Yet, it is hard to write specific emails to millions of buyers. Luckily, there is a way to personalize your responses while automating them at the same time.
You just need a reliable helpdesk software and you can turn this dream into reality. Personalization can be considered a key factor to broaden your customer base and increase revenue drastically. It allows you to segment your consumers according to their purchasing characteristics and target them accordingly. Personalization as a customer approach is more important than ever because your customers have access to company content from a plethora of digital channels.
Remember, if you have any doubts or questions, don't hesitate to ask Helpy's  team of customer support experts for help. And if you feel like you want to take a free ride and test Helpy customer service software, you can always do it here.