To become successful in business, you need to be proactive and find ways to stay a step ahead of your business rivals. But the fact is, staying ahead of your competition is often easier said than done. You also need to understand that there's no single answer to the question of how to outmaneuver your competition and win the largest market share. Every business is unique, however, there are certain strategies that yield significant results such as taking valuable positions first, building competitive insights, and attacking areas of recognized weakness.
The best way to win the game is to identify the type of selling used by the competition you're up against, and then figure out what types of sales and customer support strategies you can use to outdo them. You should carefully analyze your achievements, strengths, and forecasts to determine whether your strategies will work. It is critical to note the time frame in which you are trying to implement such strategies. One of the surest ways to acquire and retain more customers is to learn about effective ways to write customer-focused responses. But there are more!
In this article, we will teach you how to beat your competition in sales and highlight sales best practices that guarantee high ROI. But before that, we need to discuss competitive selling and make sure we're on the same page.
What is Competitive Selling?
Competitive selling means exactly what you think. It simply shows that sales represent a competitive field, and you need to utilize all tools, knowledge, and skills to gain an advantage. At the nucleus of competitive selling, there's a winning strategy where all your efforts need to be customer-centric to be able to establish a customer base full of loyal brand ambassadors. This type of competition doesn't mean undercutting the competition, but rather bolstering your own sales approach to highly meet the customers' demand so that they don't have to think about another company or product ever again.
To win the market, you need to make sure that you're able to identify your target group to focus on the relevant consumers first. You also need to understand what are the types of products or services your customers are looking for. The next step is to figure out the most effective methods to sell your specific offer. And last, but not least, you need to ensure that you're able to deliver on your promises.
How Can I Beat My Competition in Sales?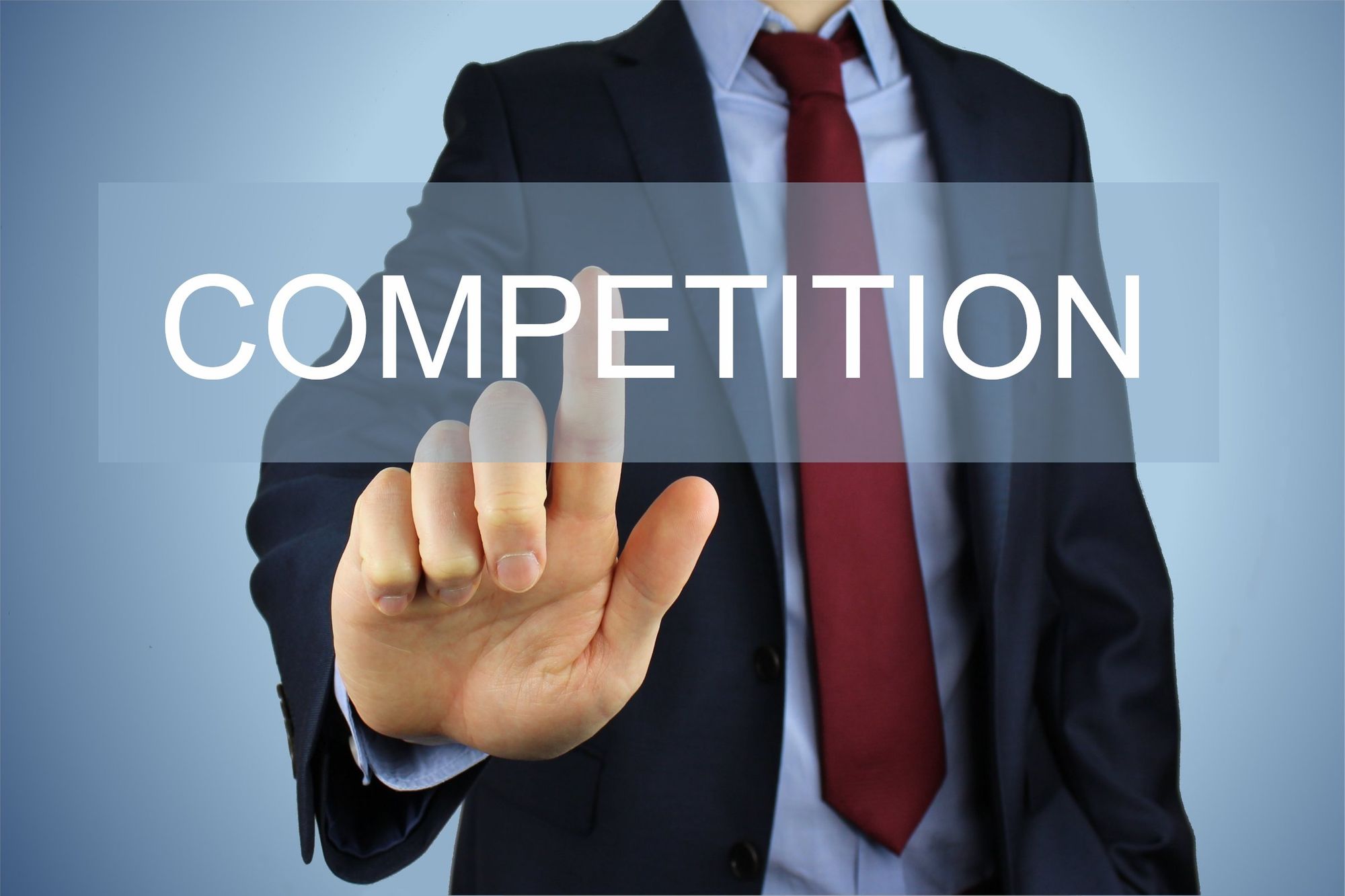 To beat your competition in sales, you need to make sure that your company is able to offer value and satisfy specific needs by offering solutions and relevant alternatives to the existing product or services. Make sure that all your team members know the exact unique proposition value of your company. This will ensure that you are able to understand the current market trends and produce a more effective sales strategy.
Here are the top techniques and tools that guarantee you victory:
1. Learn the Lay of the Land
If you are a salesperson looking for strategies to sell your product, then you need to know everything about your offer first. However, if your goal is to gain a competitive advantage, you have to know what other companies are selling and comprehend the pros and cons of their offer. When you know their strengths and weaknesses, you can create an efficient plan that will be 100% fruitful. If you don't know anything about your competitors, how will you be able to offer better quality and higher prices when a customer approaches you?
2. Find and Solve Your Customer's Pain Points
Make sure you make your company a trusted brand. You need to ensure that your customers know that your company will provide them with the best possible solutions to their problems. The starting point is understanding all your customers' needs and pain points. This will help you to determine what products or services your customers are looking for.
It is also highly recommended to use Carin for instant responses and live chat for human-like quick support. This way, you will be able to learn about your customers' needs, pain points, and provide instant solutions and responses, as well as, to make your customers happy by offering them the new generation of communication tools that guarantee maximum data security.
3. Find a Weakness Within Your Competitor's Strength
When trying to beat your competition in sales, it's important to find weaknesses within their strengths. In other words, you have to look for the areas where your competitors are weak and use that as an advantage when creating a new strategy. For instance, if your competitor is selling a product at $100, you can make an offer of $90 and highlight that your product is of the same quality, yet more affordable.
In essence, if your competitor has a weak point and that weakness is not being able to sell at a lower price, then you will be able to take advantage of it by selling at a lower price. You should also consider offering free shipping or even sweetening the deal with additional services so that customers would be more inclined to buy from you.
4. Set Competitive Prices
Setting competitive prices is one of the most important tips that any company needs to be aware of when it comes to winning the sales game. When you set competitive prices, it means that you're able to offer your customers a great value for their money. You need to be careful not to sell your products and services at too low or too high prices, compared to their alternatives because it can pose an untrustworthy picture for your brand and make it quite difficult to convert visitors into buyers.
5. Be Proactive and Consistent
Being proactive and consistent is critical to reducing your customer churn rate. Customers are often confused about what they want or are unsure about what the company offers. Thus, you need to be always in alert mode and ask them if they need help before they even ask for it. A good way to ensure this practice is to set up an AI-engineered chatbot who will be there for your customers 24/7. They will feel appreciated and more willing to spend time learning about your product or service. Also, you need to make sure that you're always following up on customers who have purchased from you in the past so that you can provide them with great service in the future. This will ensure they will keep coming back!
6. Use Social Media Platforms Effectively
Social media platforms are very important in today's world! They will help you reach out to more customers because they are already there. You need to make sure that you're able to use all relevant social media platforms such as Facebook, Twitter, and LinkedIn effectively to not waste your time and money. However, the cons here include lack of security and chat ownership troubles. When you own a security helpdesk, you own your communication channels, thus you have a better overview of authorization processes and a better control over your company's data.
7. Make It Easy for Customers to Purchase from You
This is the foundation of any sales process! Ease your customers pain, by making it easy to make a purchase at any time and from anywhere. Ensure that you've showcased all your products and services clearly and enabled all eye-catching "buy now" buttons. Remember, every positive customer experience means that a certain customer is more likely to do business with you again!
8. Target New Markets for Sales
Highly effective advertising is make-or-break necessty for most businesses! How will you let your target audience know about your product if you don't promote it, right? You need to utilize various marketing techniques such as SEO, social media marketing, and Google advertising to attract new customers quickly and keep the exisitng ones loyal. Don't ever forget, in today's highly competitive business world, marketing is critical to busines success because without it you won't be able to record a significant business growth and the risk of losing the market game quickly is very high.
9. Don't be Afraid of Risk
Risk is very important in today's digital age because this will help you achieve your goals faster. It is true, a risk doesn't sound that tempting, but sometimes brings the highest prize!
10. Provide Great Customer Service After the Sale Has Been Made
Make sure that you always provide great customer service during but also after the sales process. This will make your customers want to purchase from you again and again because they will know you are always there for them. Consider investing in the world's most secure self-service helpcentre because today's customers love trying to find the solutions on their own first. This means that your customers can help themselves in case of many thrivia types of problems, and save your agents massive amount of time, thus help them focus on more complex issues.
11. Offer Tangible Samples
Offer tangible samples of your products or services to attract more customers. This will allow your customers to see and compare the products or services before they make a purchase. It will also allow them to see how good the product is and how it will function when they use it, making sure they will get what they ordered.
12. Provide Your Customers with Discounts
Make sure that you always provide your customers with discounts because everyone love saving money! This is the quickest way to attract more visitors and broaden your customer base effectively. Consider offering a percentage discount on all of your sales during the peak months so that you can increase your sales drastically!
13. Be Clear On What You Offer
Be clear on what you offer! This is an essential sales step because it's important for people to know what it is that you're offering. For instance, if you offer cybersecurity services to your customers, then you must make sure you are very clear what cybersecurity is and what types of services you are offering. This will allow people to know what to expect from your company and what they need to do in order to be able to purchase from you again.